The Process
For single Drawings
We actually do know how Miura's first sketches look like! The collab drawing with Yuji Kaku that was published back in March 2019 gives us an insight how his drawings start out: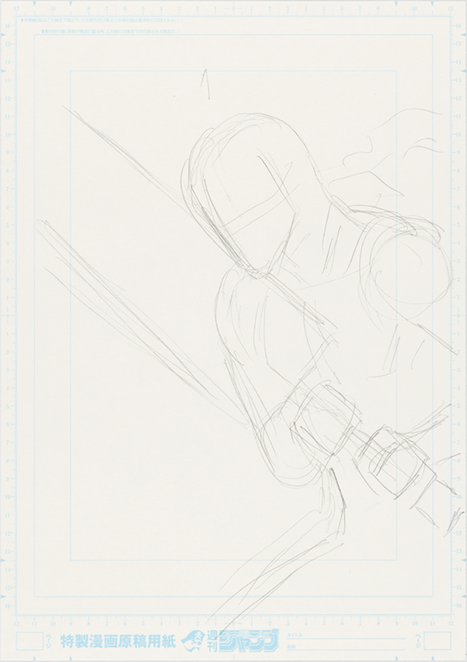 This stuff right there doesn't seem to be too different from my own concept sketches, so that's very sobering to know that even Miura still is a "normal artist" somewhere and has to start small. However, even in that sketch you can tell he is getting the proportions right already: the length of the Dragon Slayer grip seems about how long as it should be, and so are the proportions, specifically of head, size of hands and shoulder width. In other words, what you see here is Miura's "raw capacity" to draw just by muscle memory and this sketch already possesses quite the accuracy.
Now the finished drawing looks like this:
So what happened here?
Miura took the concept sketch, fixed the posing and also exaggerated the pose to make things more interesting. Guts' head, body and sword are all more bend forward, for some reason Miura decided to make his leg more visible. Guts' head also has a slight tilt to the back of the scene. Then he constructed the armor, added more detail (e.g. the belts and notches) and started shading. Had this been drawn traditionally, all this possibly would have happened within two or three separate sketches.
I actually kind of liked the cutout of the original sketch better, but I see why Miura chose against it — it makes more space for the other character, since this was a collab drawing with Yuji Kaku, author of Hell's Paradise.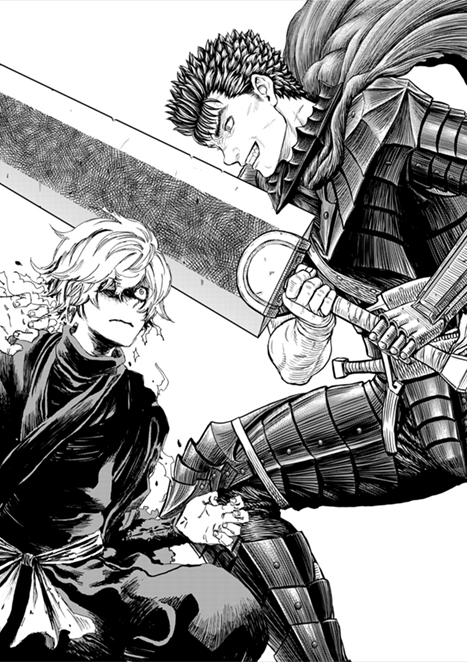 Also what is disappointing to me personally is that the way Guts poses here suggests that Miura "invited" Kaku to perhaps make his character interact with Guts visually somehow — but Kaku totally didn't go with that.
Absolute heresy.
In either case — there is still a lot of gap to be filled in between that first sketch and the final drawing.